The Arcades del Cid in Valencia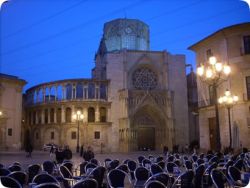 The Arcades del Cid school is in the historic downtown of the city and it looks at everyone who wants studying Spanish language in Spain.
Studying at our school means learn Spanish language in its main aspects: syntax, grammar and pronunciation. During lessons you can train with grammar and conversation.
Our teachers are Spanish mother tongue and graduated in Spanish Philology.
The school offers different courses' types in order to meet all needs.
Spanish language courses are structured according to the rules established by Cervantes Institute and they have 6 teaching levels. You can choose the right one according to your needs and you can learn Spanish language in a gradual and efficient way.
Special offers!


Discover our offers and choose the one that better suits your needs